"If you fail to plan, you are planning to fail!" ― Benjamin Franklin
The importance of effective maintenance Planning and Scheduling cannot be underestimated. Yet many asset-intensive industries are still not recognising the benefits this can bring to their organisation.
A Key Business Process
Effective maintenance Planning and Scheduling is a key business process that can help assure asset reliability and assist in achieving production targets. There are also differences between planning and scheduling that need to be recognised as quite often 'maintenance planners' are found to just be scheduling work, and not planning the work. Planning considers what activities the maintainer needs to perform, how they are going to perform each activity, what resources are needed to do each task, and what parts are required. Scheduling is setting when you are going to perform the job. Planning is always done before Scheduling.
Maintenance Plan Development
Some maintenance plans are developed utilising a structured FMECA (Failure Modes Effects Criticality Analysis) process which will identify the asset failure modes and required maintenance tasks that are needed to either prevent or predict the failure. These tasks are then grouped into frequencies along with what, who, strategy, and equipment status.
E.g.: 1 Monthly Compressor Lube Insp Offline (when, what, who, strategy, status)
It is important to allocate a status (online or offline) against a maintenance plan. If a plan incorporates both online and offline activities, then generally not all tasks are performed during the execution. That allows for some failure mode inspections to be missed, and ultimately these could result in an unplanned outage. Online maintenance is performed when the equipment is running, and no availability or production time is lost. Offline maintenance requires the equipment to be stopped and isolated. Each task on the plan will also require a duration. Maintenance plans can be grouped together to develop the overall planned outage.
Emergency unplanned work
Between planned shutdowns asset failures can occur that require intervention, it is advisable the maintenance planner does not get 'dragged' into dealing with day to day equipment failures and ends up becoming a 'reactive' planner. This will prevent long-term planning from happening, which in the long run will impact the overall plant availability.
Production and Maintenance Planning and Scheduling
It's important that the maintenance planner has regular contact with production planners to ensure that equipment is made available for maintenance at the most convenient time to ensure maximum production is achieved. 'Production is King' scenarios can exist and requesting shutdowns to perform maintenance can be difficult. Working together in partnership is the key to success.
Monitoring shutdown performance and production activity is also an element that gets overlooked. Some organisations have annual shutdowns, some companies have minor interventions throughout the year. Both approaches have benefits and require analysis to determine which approach suits your production situations (continuous versus batch)
Case Study: Food and Beverage plant – Annual Shutdowns versus Minor Interventions
The graph below shows a batch production facility that previously held annual one-week shutdowns, prior to the annual shutdown, production efficiency was dropping by up to 58%. Following the annual shutdown, it took up to 20 weeks to achieve pre-shutdown best production efficiency levels. After analysis of the maintenance workload, it was decided to move away from annual shutdowns and build a program of minor interventions combined with online condition monitoring activities. This helped with production efficiency consistency and production stability along with ensuring performance targets were being consistently achieved.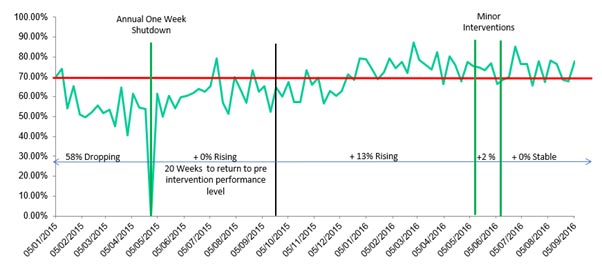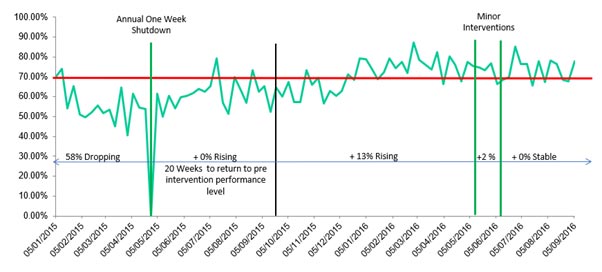 The benefits:
Two-week stock build prior to shutdown no longer required
Simplified production planning and stock control
Less time to get back to pre-intervention performance level
Increased plant availability – interventions completed on non-production days
Reduced reliance on contract labour
Summary
Implementing a well-executed Planning and Scheduling program will help improve plant availability, achieve production targets, reduce costs and improve plant safety performance. It requires a dedicated planner and scheduler and a structured planning business process where everyone understands their individual roles and responsibilities.
Happy Planning!
By Gary Tyne CRL
Director
Pro-Reliability Solutions
www.pro-reliabilitysolutions.com
Further Information
If you are interested in performing a Reliability Maturity Self-Assessment at your facility or would like to develop a roadmap for your Reliability future, then please get in touch.