According to a UK Department of Trade and Industry AMIS Benchmarking study, the sources of plant unreliability fall into the following criteria: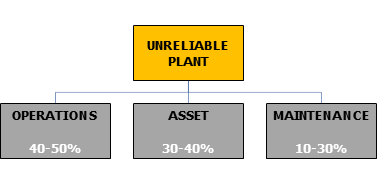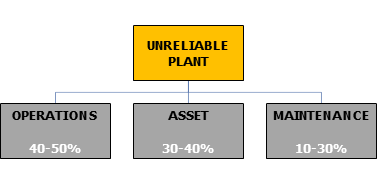 So, when it comes to Optimising Reliability it really needs to be a joint effort between those responsible for operating the assets, those designing the assets and those that maintain them.
'Being Reliable' means different things to both Operations and Maintenance personnel.
What we usually mean when we refer to "being reliable" is 100% reliable operation, which is: "Operating at the designed capacity and rate, without interruption, between scheduled downtime"
This does not necessarily mean there will be no shutdowns or repairs, it means all maintenance and operational outages will be scheduled and any unscheduled event will be known as a failure, no matter how big or small the event is.
Optimising Reliability of the current asset base needs to be a joint team effort from both Operations and Maintenance staff, yet still today the responsibility of Reliability often falls under the Maintenance department, even though 'Maintenance' is accountable for between 10-30% 0f unreliable plant.
Should Operations be taking more responsibility?
Compare it to driving a vehicle. The driver of the vehicle is the 'Operator' and is responsible for the day to day reliability of the vehicle. The Operator needs to check tyre pressures, oil levels, water levels, brake fluids, lights, brakes, fill with fuel etc on a daily, weekly, monthly basis.
When the vehicle is ready for its annual service or road test, the owner of the vehicle 'The Operator' take their vehicle to see 'The Maintainer' who will test, inspect, replace, overhaul as required by the Maintenance Schedule.
Operating and Maintaining our manufacturing facilities should be no different to how we operate and maintain our vehicles. A joint effort ensures a desired level of reliability is achieved.
Optimising the Reliability of our manufacturing plants is accomplished by understanding failures based on experience using various tools and techniques such as:
| | |
| --- | --- |
| · Reliability Centred Maintenance (RCM) | · Root Cause Analysis (RCA) |
| · Weibull Analysis | · Pareto Analysis |
| · Failure Modes Effects Criticality Analysis (FMECA) | · Total Productive Manufacturing (TPM) |
| · Lubrication Excellence | · Operator Driven Reliability |
Both Maintenance and Operating strategies need to be optimised to maximise availability and capacity throughput.
Optimising the Maintenance Strategy is to allow a piece of equipment to operate at the designed capacity and rate, without interruption, between Planned Maintenance events
Optimising the Operating Strategy is to allow a piece of equipment to operate at the designed capacity and rate, without interruption, between Planned Operational delays
Optimising Reliability = Maintenance Strategy x Operating Strategy x Team Effort
The Optimisation team focuses on proactively pursuing Maintenance and Operating opportunities using Reliability Tools and Methods considering all aspects of the plant operation. The effort should be led from the top and by stakeholders in each area and under the direction of a Reliability Leader/Engineer/Professional.
It requires both Operations and Maintenance personnel to succeed.
At Pro-Reliability Solutions, we provide a focus on Reliability with ReliabilityFocus™ – a series of elements that allows Design, Maintenance and Operations personnel to work on what matters when it matters.
It is maximising equipment effectiveness at the minimum total cost with full control over risk.
It is ensuring processes and practices are in place that ensures asset reliability and uptime.
It puts you in control of your assets.
It is a culture where employees are engaged, motivated and achieving full potential.
For further information on ReliabilityFocus™ please do get in touch, we would be happy to talk.
Further Information
If you are interested in performing a Reliability Maturity Self-Assessment at your facility or would like to develop a roadmap for your Reliability future, then please get in touch.